Things to Consider When Moving Off Campus 
Deciding to live off campus can be an exciting time. It can also be overwhelming as more and more decisions, expenses and issues pop up throughout the process. While it is impossible to account for each decision you are going to have to make, this list will help you to plan ahead and prepare you as much as possible. 
What kind of housing?

Apartments, houses, co-ops and university apartments. There are lots of options out there that vary in their level of support and independence. Making this decision early on will help you narrow your search. 

Where do you want to live?

There are five traditionally student neighborhoods in Austin. However, students choose to live all over Austin and the surrounding areas. Make sure to take your commute into consideration when deciding where you want to live. 
Solo or Roommates? Living with roommates will typically give you a more cost-efficient rent. Having a roommate can be a good way to expand your social circle, but having a roommate that you are incompatible with can cause a lot of stress. Check out our roommate finder to browse a list of other Longhorns looking for roommate and add your own profile as well. 
Narrow down your choices. Many factors go into choosing an apartment. Check out our housing portal to browse a list of over 135 properties that have opted into listing with us. The following are things you may want to think of when choosing an apartment:

Parking - If you plan to bring a car, you will need a parking slot. Most apartment complexes offer parking as an additional monthly cost. If commuting, you may also have to factor in the cost for a university parking slot. 
Commuting - Think about where the apartment is located. Will you need to commute to campus? Will you bring a car, take the bus or walk? Think about how far you are wanting to live from campus when looking for an apartment and consider those options for commuting. 
Amenities - Think about what amenities you want your apartment to have. A gym, pool, study/common areas, etc. are all examples of amenities you may want to consider when looking for an apartment. 
Security - Austin is a large city, so security is an important factor when looking for an apartment. Check for things like gates, fences, the types of locks provided on exterior doors and if there are any security personnel.
Hidden costs - Make sure you understand and know all the costs that come with renting an apartment to avoid running into any unexpected/hidden fees. These costs can include things like an application fee, background check fee, your security deposit and extra costs for certain apartment views. 

Signing a lease.

After you select an apartment you like, you will need to sign a lease. A lease is a contract between you and the apartment complex outlining the terms for the apartment you are renting. Breaking a lease can be difficult, so make sure you fully understand the terms of your lease before signing. Some key terms likely to be in your lease are the following:

A background and credit check will likely be required as part of you signing your lease. Make sure to fill out the forms provided promptly and correctly to avoid delays in being able to move into your new apartment. 
Many leases require a guarantor, sometimes also called a cosigner. Guarantors are often required when a renter does not have a long credit history or when their yearly income is lower than what would be typically expected to make their rent. If you do not have someone who can serve as your guarantor, consider reaching out to the property manager directly to state your case or consider subleasing. 
Often when you sign your lease, you are agreeing to pay a security deposit in addition to your first month of rent (sometimes your last month of rent is requested as well). Your security deposit should be returned to you at the end of your lease term so long as there are no new damages in your apartment and you clean the space before leaving. 
Legal Services for Students at UT Austin is able to review your lease with you should you wish to make an appointment. They also have more information about leases, deposits and other information related to renting. 

Moving in.

The next step is moving in. Make move in day go by smoothly by making a list of all the stuff you need to bring, so you don't forget anything. Check your email or the apartment's website for any guidance or instructions for move in day. Also, take a quick moment to take pictures of all the spaces in your apartment, taking special care to note any damages or broken items. These pictures will be important should part of your security deposit be unfairly withheld after you move out. 

Moving out.

After the lease term is over, it will be time to move out. Make sure you check in with your landlord or management before moving out to avoid any fees and to ensure you are good to go. Do the same from move in day and make a list of all your belongings to make sure nothing gets left behind.

Subleasing.

 

If you would like to move out before your lease ends or your plans change, you may want to consider subleasing. Subleasing is when you find someone to essentially take over your lease.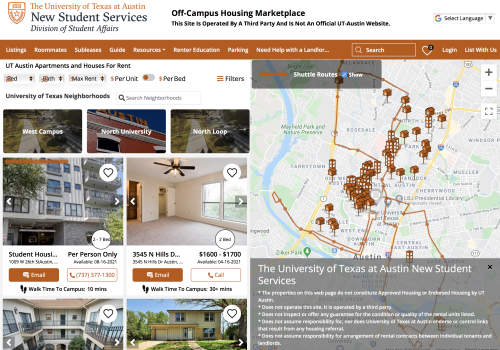 Explore housing geared towards students, find roommates or list a sublease with our Off-Campus Housing Marketplace.
Contact information
Location:
Email:
Phone:
Instagram:

Start off on the right foot with your roommates by filling out this roommate agreement.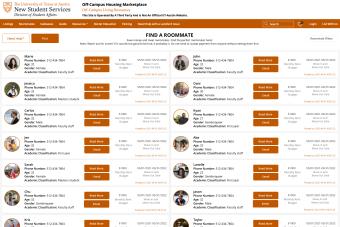 Our Apartment Finder has more than just listings for places to live. It also has a whole section for roommates. Browse roommate profiles or create and post your own to connect with fellow Longhorns.