Types of Off-Campus Housing
University Affiliated Housing:
2400 Nueces - Located in West Campus and managed by University Housing and Dining, 2400 Nueces provides safe, secure and spacious apartments with great amenities. They offer studio, one, two, three and four-bedroom apartments which are available to any student admitted to The University of Texas at Austin as a sophomore or above. You can view rates and floor plans online and apply here to select an apartment.
Dobie Twenty21 – This residence hall, also managed by University Housing and Dining, provides a unique residential experience in a 27-story complex overlooking the Forty Acres on the southwest edge of campus. Students can choose from one- and two-bedroom fully-furnished apartments. Residents have access to free laundry rooms, a fitness center and a rooftop terrace, among other amenities. You can view the rates and floor plans online and apply here to select an apartment.
University Apartments - University Housing and Dining operates the Brackenridge, Colorado and Gateway apartments located off campus. The three distinct UT communities are reserved for families, graduate students and undergraduates with at least 30 credit hours in good standing with the university. Learn more about these communities and the application process.
Non-University Affiliated Housing:
Private Dormitories - This is a great option if you were hoping to live on campus and want a community experience. Private dormitories (or dorms) function similarly to the residence halls on campus. They often have a Resident Advisor (RA) or other community leader that will serve as a resource to you. Private dorms may also have more amenities such as fitness centers, study spaces, and some have dining locations with meal plans that you can roll into your rent. 
Private Apartments - These apartments are everywhere in Austin. Private apartments close to campus will have more students living there and the further you get away from campus, the more community members might live in your building. This option will typically not have the same amount of support that a private dormitory can provide, but it may be a good option for students who are more independent or have already lived on or off campus for a year. 
Cooperatives - Also commonly referred to as co-ops, are run collectively by the people that reside within the complex. Decisions and rules are typically voted on by the residents, and the residents hold responsibilities such as cooking and cleaning. This allows the prices of co-ops to be lower than the typical rent of other housing options. 
Explore our Off-Campus Housing Finder to find the right private dormitory, apartment, or co-op for you. 
If you are looking for a short-term option in Austin, there are some alternatives to traditional housing. Learn more about thing like hostels, extended stays, short-term rentals and subleasing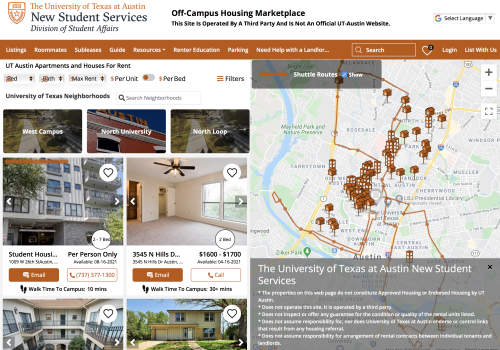 Explore housing geared towards students, find roommates or list a sublease with our Off-Campus Housing Marketplace.