Finding a Roommate
Finding a roommate to live with during college can be exciting and even a bit scary. This is a person that you will be sharing a space with for an entire semester or school year. Taking time to find someone who you can get along with is an investment in your happiness in the long term. Rather than saying yes to the first person who contacts you, pause and consider the tips below to evaluate if this person is a good match for you. 
As you begin your search, reach out to your network. Maybe you have a friend that is also looking for roommate or your friends can refer someone they know to you. There are no guarantees that living with a friend or a friend of a friend will be a good roommate match, but it does up your chances of getting a better picture of who you are about to live with. 

 
Get the news out there. Use the Roommate section on the Off-Campus Housing Finder to post your roommate profile and to view other students' profiles. Some students have found a roommate by searching Facebook groups. The official UT Austin class Facebook groups as well as the transfer student Facebook group are a great place to start. Just be sure to do some homework because these people will likely be complete strangers to you. Be careful with what information you post online.

 
Get to know perspective roommates and hold interviews. Simply asking someone about their social habits, when they wake up, and cleaning habits can help you weed out roommates you know you would not enjoy living with. If you are the one answering the request for a roommate, you could suggest getting together for coffee or a phone call to get to know each other before signing a lease. 

 
Talk about the tough stuff early on. Some might find it uncomfortable talking about money whether it is someone they know well or with strangers. Being open about the costs of rent and bills as well as your expectations on how to pay them is important. Setting these expectations can save you awkwardness and headaches in the long run. You can get some ideas of what to talk about with your potential roommate by checking out our roommate agreement. 

 
Research, research, research. Just because someone seems like your perfect roommate doesn't make it true. Interviews and first impressions are important, but solely relying on them to tell you who they are might not be the best idea. Don't be shy to ask them for a few references that you can call. Ideally these would be people they have lived with in the past but they could be coworkers or friends as well. Friend them on social media or see what they have posted publicly to see who they are in their day to day life.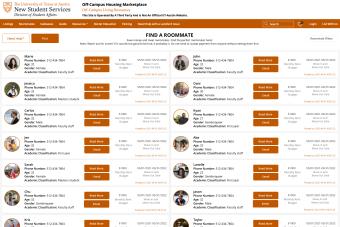 Our Apartment Finder has more than just listings for places to live. It also has a whole section for roommates. Browse roommate profiles or create and post your own to connect with fellow Longhorns.

Start off on the right foot with your roommates by filling out this roommate agreement.