Dining On and Around Campus
With over 20 locations across campus, you are sure to find the perfect cup of coffee or filling lunch that will keep you going all day long. UT Austin also offers dining options to help you find food and necessities off campus.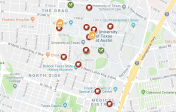 You're never too far away from a meal! Explore the various dining locations on campus.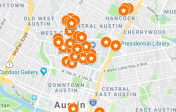 Bevo Pay is a way to purchase food and other items at a discounted rate. Using a prepaid account, you can swipe your student ID to make your purchase. Explore this Bevo Pay Map to find participating vendors.