Short-Term Housing
If you are staying for at least one semester, there are free, online apartment locater services that can help you find a great place to stay. If you are only staying short-term, there are some alternatives to traditional housing. Most short-term housing in Austin will fall into one of the following categories.
Hostel

​Hostels are typically lower-priced than a hotel, and they allow guests to rent a bed in a shared space. Guests will typically share a bathroom, lounge and kitchen. Hostels can be a great way to get to know people and save some money.

Extended Stay Suite

An extended stay suite is halfway between an apartment and a hotel. Unlike most hotels, these suites have kitchenettes to give you the feel of an apartment without the increased price. You can rent an extended stay suite by the week or by the month.

Short-Term Rental

​There are online marketplaces where you can rent someone's property or spare room for a period of time at a low cost. 

Subleasing

​​​​​​​Subleasing allows you to essentially take over someone's current lease. Generally, the person subleasing will want you to take over the entire lease, but if they have no other interested parties, they may be willing to sublet to you for a shorter period to at least recoup some of the expenses. 
---
Choosing Short-Term Housing
There are a few things to think about when choosing a short-term housing arrangement. Below are some details that you should verify before deciding on housing.
Location

​Map out the locations of your classes and any other places you plan to visit often. If your buildings are close together, try to find short-term housing close to that area to save time.

 

Duration of Stay

​Make sure you have a housing arrangement for the entire duration of your stay. Confirm the start and end dates of your rental to ensure you never find yourself without housing while you are here.

 

Means of Transportation

​If you plan to use the CapMetro system to get to and from campus, analyze the route maps to see which housing options are near a bus stop on your route. If you plan to walk, bike or scooter to campus, make sure the trip will not be too long or tiring to make every day.

 

Budget

​When deciding how much you are willing to spend on short-term housing, make sure you factor in the additonal expenses. Consider how much money you might spend on furniture, groceries and eating out when you set your budget.

 

Reviews

​Read the ratings and customer reviews of your hostel, hotel or rental. This can give you a better idea of the safety and cleanliness of the space, as well as tell you more about the area. If you are considering a short-term rental, check to see if the website you are using recommends your host.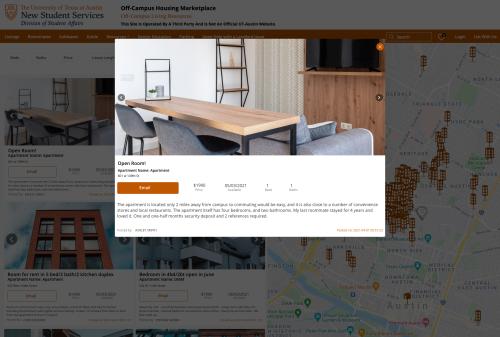 Subleasing is a great way navigate affordability and shorter leasing term. You can also help out a fellow Longhorn by being their subletter.