Moving Out Checklist
The semester is almost over! If you're moving out at the end of the semester, we've got you covered. Here is a checklist of important things to remember when moving out.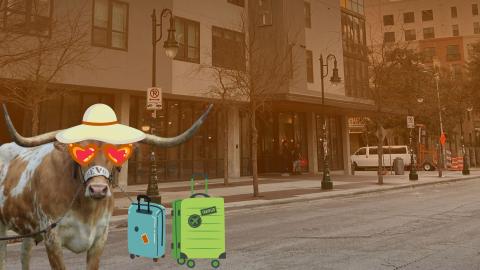 Make sure you have all of your

stuff packed

and ready to go ahead of time.

Make a 

checklist

of your belongings

It may be helpful to pack your belongings in labeled storage bins. (one for clothes, for kitchenware, etc.) 

If you are are only bringing some items home over the summer and returning later to do a big move out, make sure you bring home essentials and important documents (prescriptions, passport, computer, charging cords).

Deep clean

your apartment (see our spring cleaning blog for helpful tips!).

If you have roommates,

communicate about cleaning. 

Divide up the apartment to clean. 

This can help you avoid fees and maximize the return on your security deposit. 
After everything looks spotless, take pictures or even better, do a video walkthrough. This allows you to document the condition of the space and your furniture in the event you are charged for fees that you do not think your are responsible for. 

Check your lease.

Make sure all of your rent is paid and that you are good to move out. 

Make sure your apartment is in 

good condition 

according to your lease. You don't want to lose out on your deposit.

Update your information and billing.

Make sure your landlord has an updated mailing address for you so you can receive your security deposit back and in case they need to contact you. 
Enroll in mail forwarding with the US Postal Service. 
Contact any utilities under your name to update your address or discontinue service. 

Return your 

keys

to the leasing office and any other requested items outlined in your lease.

Double check

that you have all of your belongings before leaving.

Don't forget to 

check under

couches, beds, cabinets etc. Once you leave there is no going back!
Say goodbye! Give your apartment and/or roommate one final goodbye before leaving for the summer. Then travel safe to your next destination.  If you are moving out in July, we recommend signing up for updates about MoveOutATX which is a program operated by Austin Resource Recover, the Office of Sustainability and our office to help redirect materials from the landfill to donations for local agencies. Sign up for updates here: https://www.moveoutatx.org/newsletter